A lot of my personal experiences can't be recorded in reviews, mostly because I don't have much practice with sex toys. I have my basics of course (a bullet, a few dildos, my Hitatchi wand) but I just can't afford to purchase every toy I want to try. So I decided I can just fantasize about them instead -- they make for great blog posts!
Today I discovered Ohmibod's
Club vibe
. I automatically put it on my wish list of obviously, but first I'll tell you why I think it's so neat.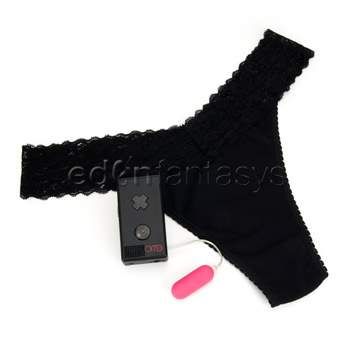 First of all, vibrating panty? that is just awesome. Here's how the Club vibe works. It's a small bullet that responds to manual control (hence the remote), surrounding music, or music from an iPod or mp3 player. So you could walk into a club and all the music would CAUSE the bullet to vibrate. I believe it vibrates to the beat of the music, which is truly great.
Second of all, it's very discreet. It's part of your panty so no one would notice it. So you could totally have an orgasm right there and no one would know! Very sexy.
I was compensated with a Edenfantasys gift card for writing this post. I am an Eden Ambassador, not a reviewer. All thoughts are my honest opinions.