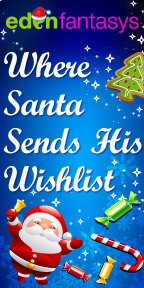 How did everybody spend their Christmas? Hope that you all were safe, warm, and happy... and that Santa Claus paid you a
naughty
visit ;)
For me, the holidays aren't over quite yet! I still have a few days off work and I also count New years as a huge holiday (often bigger than Christmas because we celebrate harder!!!). So even though Christmas is over, you can still have fun!
Be a little bold and give someone a New Years present this year... especially if you missed a Christmas present for them!
Edenfantasys
offers year-round selections that anyone, male or female, single or in a relationship, can enjoy.
Here are a few of my personal suggestions:
For the girly girl:
Cocoa Nostra confectionary lip balms
!
Anyone would be delighted to be the owner of these delicious chocolate-inspired lip treats. They smell great and Feel great too!
For the Newlyweds:
This is a spicy get to know you game for couples that's both thrilling and deep! New brides will revel in the cuteness and new grooms will appreciate the... activity.
For the best friend:
Because she's the only one you'd be brave enough to get a sex toy for....
This baby right here! The Jopen Vr. 12 is as luxurious as sex toys get. I'm sure she'll love you for it!